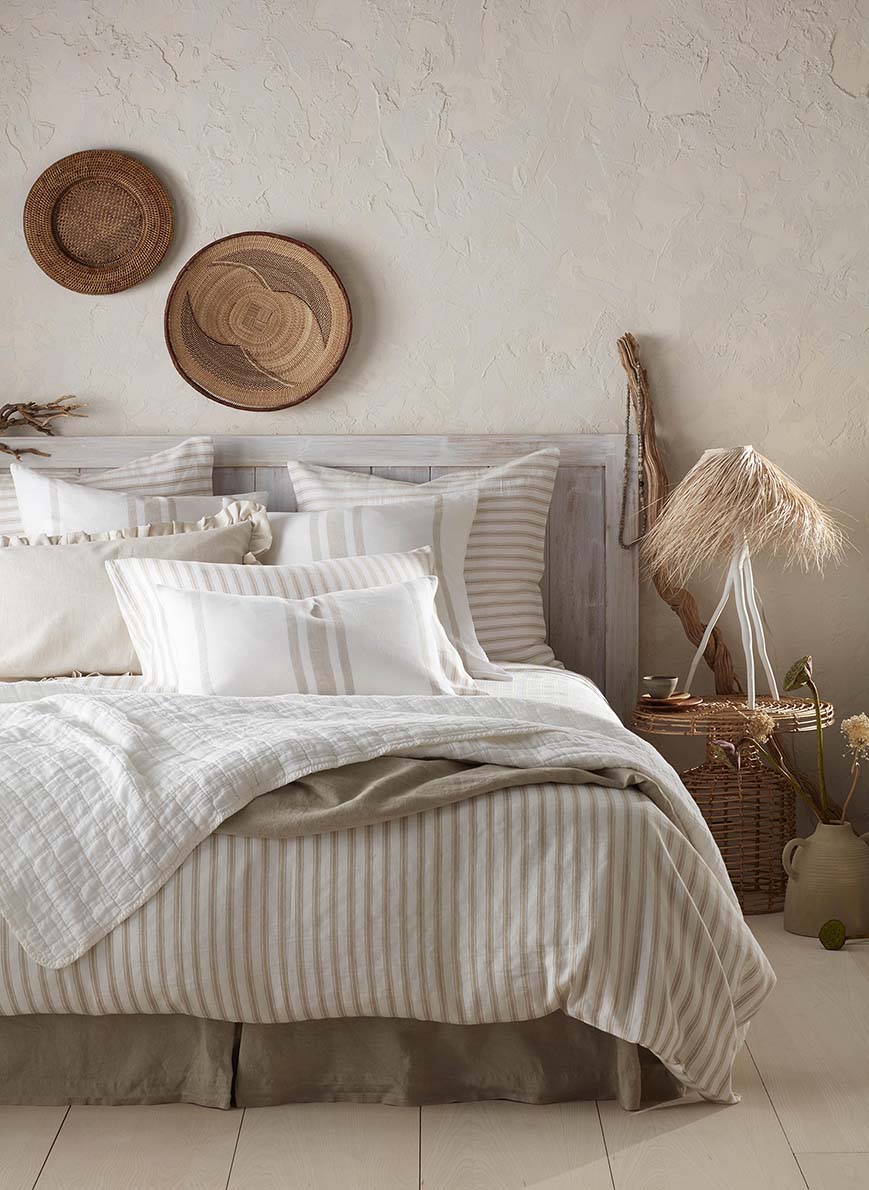 The Brilliant Benefits of Linen in the Summer
0 comments
Linen is a winner year-round, but its benefits really shine in the summer. We've asked our friends at Secret Linen Store to tell us exactly why it's a great option for bed linen and beyond. 
Here at our Secret Linen Store we could spend all day shouting from under the covers about why linen is an absolute must have for any bedroom, even more so when the temperature outside is just that bit too toasty. Let us share with you why 100% linen bedding is possibly the best option when it comes to keeping cool on hot summer nights. 
It's Super Absorbent
Thought of as natures wicking fibre, linen has unique filtering, moisture-absorbing and evaporative qualities. Whatever the temperature, we've all woken up in a bed that's a little damp from time to time but because linen can absorb up to 20% of its weight in moisture before ever feeling damp, you'll be waking up to cool fresh sheets every morning.
Linen Has a Magic Texture
Linen's thicker threads and looser weave give it a different feel to cotton, which is why it's much less likely to cling to you whilst you sleep. Linen gently drapes over you, falling rather than clinging to you as you dream of cooler times. Linen is also naturally resistant to static, so you won't find it stuck to you. 
Temperature Regulating
Linen's temperature regulating properties make it the ideal bedtime choice year-round, with the ability to both insulate and ventilate. Linen's breathability and moisture wicking abilities are what helps to keep you cool in hotter temperatures but what about those chilly mornings before the sun has peeped up or even those colder nights ahead? Whilst other fabrics may keep you warm at first their construction means that any sweat becomes trapped on the fabric, leaving you damp and eventually cooling you down. As linen wicks away moisture, it will keep you warm whilst releasing any extra humidity to leave you with a light but cosy feeling. 
All Round Great Fabric
Linen has so many other benefits that make it the ideal bed linen fabric (we know these are year-round, but we couldn't resist). On top of all the wonderful qualities we have already shared, linen is also resistant to bacteria, non-allergenic, insect repellent and more sustainable than other bed linen fabrics. Now that really is a lot of tricks in our 100% linen bedtime book.
It Looks Amazing
Never mind how it makes you feel in the summer (see points 1-4, also very important), 100% Linen looks absolutely delightful. The texture of the laundered fabric means that the light literally dances across the fabric and makes it the most delightful texture to style and show off. Because of our fabulous dying process, the fabric takes the dye creates highs and lows in the colour making it picture perfect.
If you love summer, but not sleepless nights, linen could be the just the bedtime friend that you are looking for.
Happy Summertime all,
Becky
0 comments